October 2018
VOTING 2018

Last Day to Register to Vote October 15th !!
AND
If you haven't yet registered to vote in your local, state and national elections,
you may do so here:

EVENT:
October 2018 GRAAUW Branch Meeting

DATE/TIME:
Tuesday, October  9, 2018    7:30 p.m – 9:00 p.m. 

 LOCATION:
St. Matthias Episcopal Church
11300 W Huguenot Road, Midlothian, VA 23113     Map

PROGRAM:

Ratification of ERA


SPEAKERS:

Jane and Newell and Trish Wallace

RSVP/Qs

Dulce Lawrence  dulcelawrence9967@yahoo.com
EVENT:
VoteSmart    —    Facts Matter Tour
DATE/TIME:
Sunday, October 14, 2018    4:00 p.m – 5:30 p.m. 

 LOCATION:
Clark Hall #107, at
291 McCormic Road, Charlottesville, VA 22903

     

Map
---
Upcoming Events:
EVENT:
Annual Wine Tasting   Scholarship Benefit

DATE/TIME:
Saturday, November 17, 2018    5:00 p.m – 7:00 p.m. 

 LOCATION:
Forest Hill Presbyterian Church
4401 Forest Hill Avenue 23225    Map

PROGRAM:

Taste delicious wines, hors d'oeuvres,
Raffles for wine and wine baskets
Tickets available through Event Bright

RSVP/Qs

Email: Wine Tasting Chair
---
 In the News!
ADVOCACY
The 2018–19 award year kicked off with the release of our updated online Fellowships and Grants directory in which you can find out more about the remarkable women and organizations from your area! To learn more about AAUW's fellowships and grants programs and past awardees, visit our fellowships and grants web page and read our Following the Fellows blog series.  Read More
 Oppose the Confirmation of Judge Brett Kavanaugh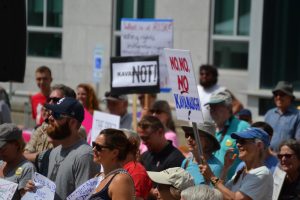 After careful consideration, AAUW has opposed the confirmation of Judge Brett Kavanaugh to the U.S. Supreme Court. While it is true that Judge Kavanaugh is an experienced juror, review of his available record has made clear that he holds positions that are fundamentally at odds with AAUW's mission — Judge Kavanaugh has shown opposition to women's access to reproductive health care and contraception, has called into question the protections of the Affordable Care Act, and his record shows that he is willing to do grave harm to women by upending employment and labor rights and restricting voting rights. Call your senators to urge them to oppose Judge Kavanaugh's confirmation.  READ MORE »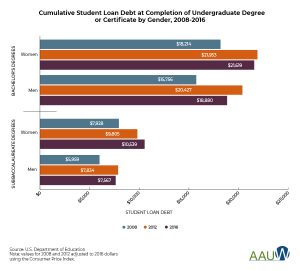 Women's Student Debt Crisis in the United States
This report reveals that women also take on larger student loans than do men. And because of the gender pay gap, they have less disposable income with which to repay their loans after graduation, requiring more time to pay back their student debt than do men. As a result, women hold nearly two-thirds of the outstanding student debt in the United States — almost $900 billion as of mid-2018. Read More.
---
 And please visit our Greater Richmond AAUW  FACEBOOK page !
---
VOTING 2018

October 15th- Last Day to Register to Vote !!
AND
If you haven't yet registered to vote in your local, state and national elections,
you may do so here:

---
AAUW empowers all women and girls
to reach their highest potential
through advocacy, education, philanthropy, and research.