December 2018
---
Upcoming Events:
EVENT:
Annual Great Expectations Student Luncheon   

DATE/TIME:
Friday, December 14, 2018    12:30 p.m – 3:00 p.m. 

 LOCATION:
J. Sargeant Reynolds College – Parham Campus in the Workforce Building
1651 E Parham Rd, Richmond, VA 23228           Map

Description:

In Virginia, thousands of students who have experienced foster care find success through a Great Expectations program at one of Virginia's Community Colleges.
These students are used to sandwich/chips for lunch and on this occasion, Greater Richmond AAUW is hosting 25 students and their mentors for healthy hot seasonal meal before the winter break.  

Contacts:

Email: Laura Wimmer, Greater Richmond AAUW Community Outreach
                                            & Event Coordinator
---
 In the News!
Special Event:   ERA Bus Tour — VA ratify ERA
                                                      Here we are at William and Mary!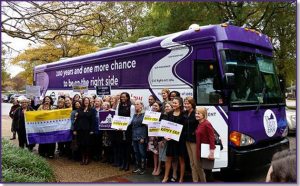 On November 9, 2018 #VAratifyERA will launch "10 Days of ERA," with a statewide bus tour (schedule here!) helmed by Delegate Jennifer Carroll Foy (D) and Senator Glen Sturtevant (R). The tour's goal is to educate Virginians about the absence of gender equality in the U.S. Constitution and highlight the unequivocal, bipartisan statewide support for ratification of the Equal Rights Amendment (ERA). Two states ratified recently, Nevada in 2017 and Illinois on May 30th, 2018 leaving just one state left in the 38 required. All eyes are on Virginia to be the last, historic state during our next General Assembly session.
---
ADVOCACY
The 2018–19 award year kicked off with the release of our updated online Fellowships and Grants directory in which you can find out more about the remarkable women and organizations from your area! To learn more about AAUW's fellowships and grants programs and past awardees, visit our fellowships and grants web page and read our Following the Fellows blog series.  Read More
---
In the news: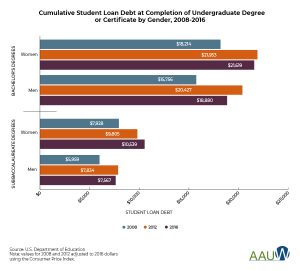 Women's Student Debt Crisis in the United States
This report reveals that women also take on larger student loans than do men. And because of the gender pay gap, they have less disposable income with which to repay their loans after graduation, requiring more time to pay back their student debt than do men. As a result, women hold nearly two-thirds of the outstanding student debt in the United States — almost $900 billion as of mid-2018. Read More.
---
 And please visit our Greater Richmond AAUW  FACEBOOK page !
---
VOTING 2018
If you haven't yet registered to vote in your local, state and national elections,
you may do so here:

---
AAUW empowers all women and girls
to reach their highest potential
through advocacy, education, philanthropy, and research.