Announcement:
        The Virginia General Assembly starts up on January 9th *, so we will be very busy attending the Roundtable every Wednesday and then contacting various legislative members and or their staff. The first Roundtable this year will be held on 1/17/2018.  
Of particular attention this year are ERA ratification, Equal Pay and Redistricting.
February 7th is State Lobby Day. AAUW members will be coming from across the state and there will be a lunch afterward at the Berkeley Hotel. (Map) Some of our members will be hosting out of town attendees.
For more than 100 years, AAUW has taken strong positions on issues affecting women and families. AAUW is involved on both a Federal and State level on issues concerning the following: Education, Pay Equity, Reproductive rights, Welfare, Social Security, Title IX, Civil Rights, and many more issues that impact AAUW's mission. AAUW on the federal level has a federal lobby corps made up of volunteer members from Virginia, Maryland and Delaware that visit Legislators on Capital Hill every Thursday while the Congress in Session. On the State level, we have a State Lobbyist and a VP of Public Policy. On a weekly basis they attend the Women's Roundtable at the Virginia General Assembly and lobby on behalf of our Virginia AAUW members.
---
Members of our branch work every year to get the Equal Rights Amendment ratified by lobbying at the General Assembly.  The ERA was first introduced in Congress in 1923 and was reintroduced every year until its passage in 1972. The proposed constitutional amendment required three-fifths of all states to ratify the amendment before fully implementing the ERA. State legislatures were given until 1979 to ratify the amendment, and Congress later extended the ratification deadline to 1982. By the time the final deadline passed in 1982, 35 states approved the ERA, three states short of ratification. Nevada has just passed the ERA this spring,  On Wednesday, May 31, 2018, Illinois became the 37th state to ratify the Equal Rights Amendment. hurrah! Virginia is among the remaining 13 which have not ratified ERA. Only  1 needed. It is very important that Virginia step up!
---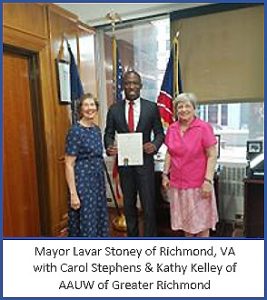 Pay Equity is one of AAUW's Public Policy Issues.  The Simple Truth about the Gender Pay Gap  succinctly addresses these issues by going beyond the widely reported 80 percent statistic. The report explains the pay gap in the United States; how it affects women of all ages, races, and education levels; and what you can do to close it.
The mayor of Richmond, Lavar Stoney signed a proclamation and promised to support our efforts to close the pay gap in city government.
---
We also help college students learn how to negotiate for higher salaries. Learn more about these workshops at:  AAUW National Salary Page
---
Several of our members reach out to the public at public places and events to register them to vote. If they are already registered we answer questions such as how to change their address etc.  Everything you need to know about an upcoming election can be found at: http://www.vote411.org/
---
We help OneVirginia2021 advocate for fair redistricting in the Virginia.  We help them organize through local, regional, and statewide efforts to prevent gerrymandering by partnering with them to raise awareness, provide information and work with legislators to implement meaningful reform.
---
Please contact Trish Wallace, AAUW Greater Richmond Public Policy Chair, with questions concerning branch involvement in AAUW's public policy activities.
Learn more about AAUW's issue advocacy and public policy program at AAUW Public Policy.