The Greater Richmond Branch's major fundraiser is a Wine Tasting Benefit.  Proceeds have historically gone to two AAUW Funds: Educational Opportunities Fund.In addition, Greater Richmond AAUW is usually able to offer one or more local undergraduate scholarships each year.
AAUW Funds

AAUW restructured its funds into four main funds:
Education and Training (4450) addresses the barriers and implicit biases that hinder the advancement of women. It includes Fellowships and Grants, public policy and research.
Economic Security (4449) ensures livelihoods for women through achieving pay equality for women and includes such programs as WorkSmart, StartSmart, and the Legal Advocacy Fund.
Leadership (4452) supports the effort to close the gender gap in leadership opportunities and includes programs such as NCCWSL and Campus Action Projects.
Greatest Needs (9110) allows AAUW the flexibility to respond rapidly to new and emerging challenges facing women and girls.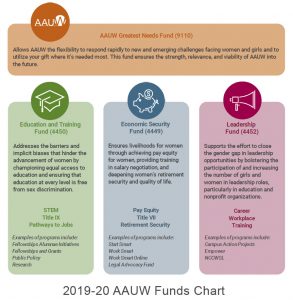 For detailed information on the five funds visit AAUW's How to Support AAUW's Mission page or download the .pdf.
Note:
You can support AAUW by accessing the online donation form or by participating in the Greater Richmond Branch's fundraising activities. AAUW Fund Contribution instructions
AND
If you wish to contribute online to honor someone with a contribution to AAUW, just follow these steps…
Go to the AAUW Member Services Database (MSD) at https://www.aauw.org/resource/member-services-database/. You will need to login with your id and password.
Select Individual Contributions from the menu at the left.
Complete the form providing the amount to be contributed and selecting the area of AAUW Funds to which the contribution should be assigned. You can select "The AAUW Fund – General" and let AAUW make that decision.
Continue and identify the person who should receive notice of the contribution.
Provide your credit card information to complete the contribution.
Note: Your contribution will show up on the MSD should you need record.
Online contributions to AAUW Funds are tax-deductible.
OR
If you prefer to have the GRAAUW Finance Officer handle the contribution, just send the check to Sarah Crowder, 8912 Rattlesnake RD, N. Chesterfield, VA 23235